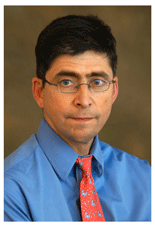 Dr. Michael Polydefkis received his medical degree from The Johns Hopkins University School of Medicine. He then became a Howard Hughes Medical Institute research fellow before returning to Johns Hopkins to complete an internship and residency in internal medicine, residency in neurology and a fellowship in neuromuscular diseases.
Now an Associate Professor of Neurology at Johns Hopkins, Dr. Polydefkis focuses on neuromuscular diseases, particularly peripheral nerve diseases. He has a special interest in peripheral neuropathies associated with Sjogren's syndrome, diabetes and HIV infection. His expertise includes nerve conduction studies, electromyography and nerve, skin and muscle biopsy reading.
Dr. Polydefkis's research interests include:
the role of nerve growth factor expression in human peripheral nerve regeneration
Novel models of human nerve regeneration
identification of factors influencing nerve regeneration in diabetes and HIV infection
clinical trials of promising neurotrophic agents using novel measures of axonal regeneration.